I am taking part in a linky party for new blogs over at Sassy Sites.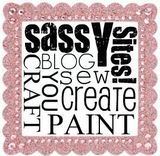 It is a getting to know you so here are my answers:
Why did you decide to start blogging?
I read loads of blogs and felt that I couldn't really comment on other blogs if I didn't have my own!
When
you aren't blogging, what are you doing?
Looking after my two children and making things, anything!
A bit of everything but mostly things I have made. I am passionate about the environment so most posts have a recycling theme!
When
do you find the time to blog?
In the evenings once the kids are in bed!
Why
do you love blogging?
It is nice to know I am not the only person like me! I know no one in real life who likes making things!
What is your favorite post so far that you've written?
Not sure....maybe my latest 'Moneygram' as it was my very own idea!